Latest News
Going from strength to strength, Dolphin School jumped up to 39th place in this year's Sunday Times Top 100 Prep Schools list! Although we know that academic results are not the only measure of an excellent school, it is rewarding to know that our pupils flourish in all areas.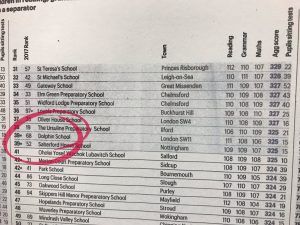 Well done to our Year 6 pupils who have received multiple Senior School offers, including an astounding 13 Scholarships (4 Academic, 4 Sport, 3 Music, 1 Drama, 1 Art).
Places were offered to our pupils by the following schools:
Alleyn's
Dulwich College (The top Academic Scholarship was offered)
Emanuel
Ewell Castle
Francis Holland
James Allen Girls'
Kew House
Latymer Upper
Penliegh and Essenden Grammar – Australia
Reeds
Royal Russell
Streatham and Clapham High
Sydenham High
Thames Christian College
The Hall – Wimbledon
The Laurels
Whitgift
Woldingham
We wish our parents and children all the best in making their choices.
Karl Hopwood has built a strong reputation for helping schools and families to create a positive, safe atmosphere for using technology. Last Thursday, Karl did not disappoint us. His talk was current and eyeopening; drawing attention to many of the current and developing issues within technology. One of the key messages underlying everything was the importance of developing and maintaining strong relationships with our children, one that is based on open communication and dialogue. It was truly a valuable evening.
The following website is a useful, up-to-date resource to help with e-safety related questions and contains a helpful resilience toolkit:
https://www.internetmatters.org/advice/digital-resilience-toolkit/digital-resilience-toolkit-6-10-year-olds/
Dolphin School was ranked 47th in last week's Sunday Times table of results for Prep Schools.  It is a tremendous accolade that the school was in the top 50 Preparatory Schools in the country.  Although we know that this is not the only measure of an excellent school, it is rewarding to know that on the academic front, as in our holistic development of our pupils, we are excelling.
Thank you to everyone who contributed towards our Harvest Assembly, and so generously donated to the Wandsworth Food Bank.
Thank you to everyone who contributed towards our very successful Macmillan Coffee Morning.  We raised an amazing £431.52!
Check out our gallery for the photos from our amazing production of Adventures of Oz.
Don't forget to check the Picture Gallery for more pictures of our recent Theme Day!