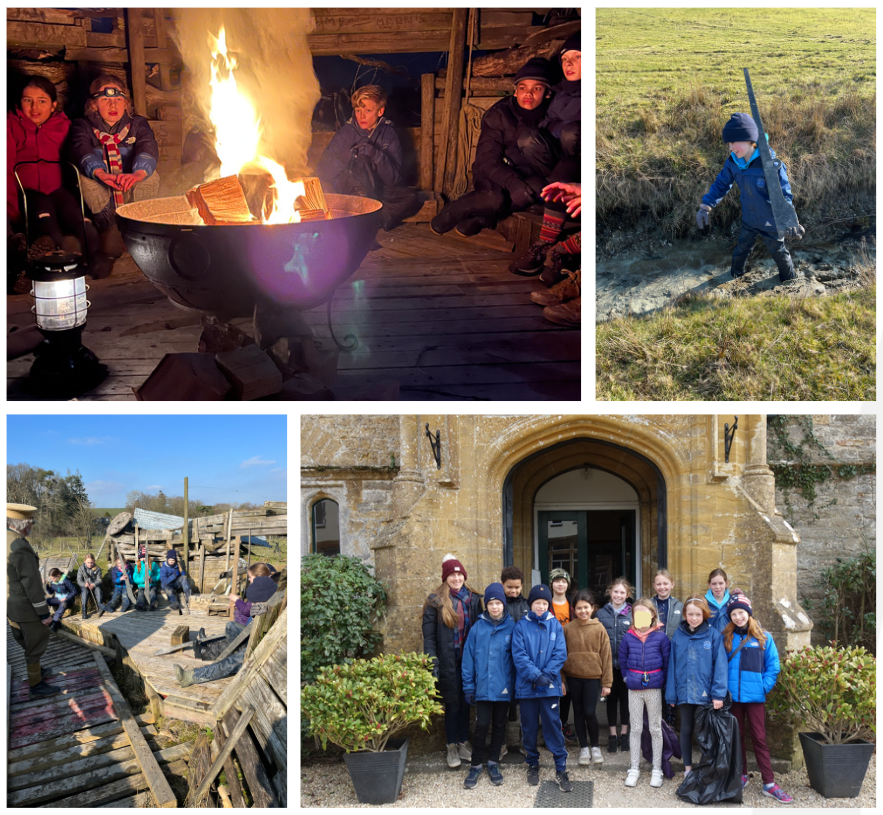 Hooke Court Residential
As we waved a tearful goodbye to our loved ones, our World War One adventure began. At last there came the sound of a train coming into the station, a sound of glory. Everybody pulled out games and snacks ready for this two hour and twenty one minute ride. We finished our trip and finally arrived at Hooke court where a lovely lady greeted us and showed us the way to our dorm. As soon as we had munched our way through the sandwiches and the crumbling crisps, we set out for our first activity; bridging the moat.
The first step of completing this task was to create a tripod out of only four pieces of short rope and six pieces of wood able to hold at least six people or more. The next thing we had to do was create a tightrope across to trees, not too difficult, right. Actually these things are more difficult than they seem because they require lots of teamwork and skill. Alas, eventually we were successful and managed to get the precious cargo across.
Next, it was time for dinner, of delicious penne and bolognese sauce, with dessert of vanilla ice cream! Swiffy moving on Captain Alan, our instructor, came into our accommodation in a strict manner and we marched off for our night activity in the Long Room where we were to sign enrollment certificates. After we had all joined up and said our oaths we looked at some of the weapons the soldiers would have used and held them, the weapons were a lee enfield rifle, a revolver and the mills bomb. Aswell as this, we examined some artefacts which would have used and made paper poppies to plant out on the fields the next day.
On the next morning, straight after a delicious breakfast Captain Alan marched us down to the fire where we should cook our own lunch and a few biscuits, which we ate later in the trench. We then did some bayonet practice running at sacks of hay with a plank of wood in your hand and marching before practising throwing balls to represent shells and then diving flat on our tummies. When the meat was ready, we enjoyed a scrumdiddlyumptious lunch of SPAM, corned beef and veggies.
Having eaten our fill (of sandwiches and spam), our regiment was called up to duty on the frontline. In synchronised steps, we marched up toward the trenches yet broke sync once close so the enemy would not hear us. As we trudged heavily through the thick, clay mud of the connecting trenches, we noticed frogspawn scattered all around us. Crawling through the mud was obviously enjoyable but the best part was taking guard duty and eating home-made biscuits or wads as soldiers would have called them with a slurp of trench tea. We explored the Captains and the corporal's quarters and the firing step to scramble over to bolt at the enemy. Finally we made it to what we all wanted to do; go over the top and scramble through no man's land. Fighting our way, with rifle in hand through barbed wire and smoke to the sound of gun fire, the realities of war came fully to life.
Possibly the most poignant two minutes of the trip came straight after. We placed our handmade poppies on the ground as the words of 'Flanders Fields' were read. In the pensive silence that followed we took time to remember those in active war currently and finished with a prayer.
That evening we made our way back to the trench to spend time around the campfire, singing songs and listening to WWI stories. The chill of the night air didn't deter us and it was a perfect end to our day as soldiers. We were very grateful to have warm beds to return to that night!
Our final day saw us turning our thoughts from History to Science and building magnificent rockets. Learning about the forces in action before launching them brought and added excitement to the activity. Watching in awe as our rockets took flight was a super conclusion to a fabulous trip.